NewsFeed

NewsFeed –
Fresh Content For Your Site
Research shows that search engines like websites with fresh content. Regularly updated websites will perform better and bring in more visitors than those static websites which are never updated.
We know that as a business owner or limited company director, you don't necessarily have the time to spend on updating your website on a regular basis, which is why we've developed this product to ease the pressure on you but improve your website at the same time.
Simple integration of our NewsFeed into your website means you can feel the benefits of fresh, regularly updated content without any extra work on your part.
NewsFeed is automatically updated to ensure there is always fresh content displaying on your site without any need for manual involvement.
Bespoke NewsFeed Design
Improving your website's SEO (search engine optimization) is a difficult task faced by many businesses. NewsFeed will help improve your SEO, but there's no reason for it not to be well designed at the same time.
Whether you're having a website designed by us or you already have a website, our website designers can build your NewsFeed to fit perfectly with the look and feel of your site.
Low Cost, low maintenance solution

Search engine & user friendly

Designed to fit perfectly into your site

You choose the relevant news from a list of options

Automatically Updated

Attract interest and stand out from the crowd.
Example Newsfeed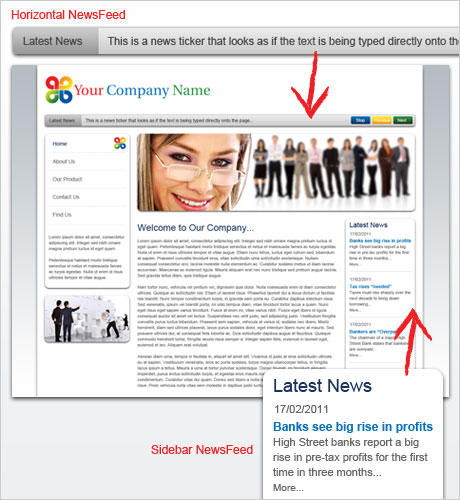 There are two styles of NewsFeed to choose from:
1. A horizontal ticker that looks as if the text is being typed live onto your chosen page.
2. A sidebar style ticker that fades news items in and out at timed intervals.
Both styles can be designed to fit seamlessly with your websites design. Simply choose the style of NewsFeed that suits your needs, select any news feeds that you wish to use. Choose whether you want to display just headlines or headlines and descriptions and choose a page to display the NewsFeed on. Let us know your requirements and we'll do the rest.
NewsFeed Options
The best bit about our NewsFeed is the choice. Not only can you choose the design to fit the look and feel of your website, but you can also choose the sorts of news streamed to your site.
Here is a list of example news feeds that you might like to use.
Shopping Basket
You have 0 items in your basket