Blackmore is an independent company based in South Woodham Ferrers in Essex with a real drive for bringing their unique and exciting range of cycling apparel to market. Its creator, Nick Hobbs, left his job as a primary school teacher to start Blackmore in the summer of 2014 with two close friends and fellow riders, who have a background in clothing design and manufacturing. The company has turned to Kickstarter to raise the profile of their project and seek the capital they require to fund a sample manufacturing run of their first batch of designs.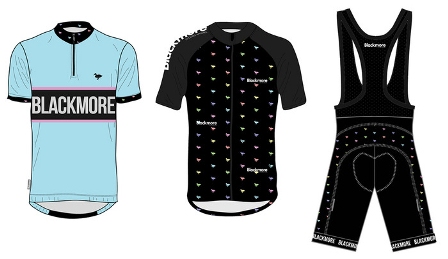 With $1billion having been pledged by 7.5 million people since its launch in 2009, Kickstarter is the world's largest crowdfunding platform. It gives startup businesses a real platform for publicising their ideas and, more importantly, a chance for them to secure funding that will help to turn their business dreams into reality.
We spoke to Nick about Blackmore's origins, his hopes for their Kickstarter campaign and their business objectives for 2015.
Q – Nick, what was the inspiration behind Blackmore Apparel?
A – It's a combination of things really – our passion for cycling and our firm belief that there is a gap in the market for cycling apparel that is more trend-led rather than performance orientated.  Our designs are more about the print work than the technology. We want to create a distinctive and individual range that stays true to its local roots through its association with grassroots projects and independent bike shops.
Q – Where did the name come from?
A – The inspiration for the duck emblem on our clothing came from the sign in the village of Blackmore warning motorists about ducks crossing the road, and we settled on Blackmore as a name because it sounds good and stays true to the company's Essex roots. I'm from the nearby village of Ingatestone, we're based in South Woodham Ferrers and we also have links to a cycling club in Highwood. The theme of being in touch with our local community is really important to us, so this was always going to be the major consideration.
Q – How did the Kickstarter campaign come about?
A – We saw a Kickstarter campaign as the ideal launch pad for our company and brand. By sharing our vision on such a widely used platform, we felt it would give us the best chance of demonstrating what we want to achieve and securing the money to fund our first manufacturing cycle. We're still hopeful of reaching our target, not least because we hope to raise further awareness of our campaign through our appearance in publications like Outdoor Enthusiast and Cycling Weekly.
Q – What do you think of Kickstarter?
A – Kickstarter has been great for helping us boost our online presence and attract more followers. It has led to considerable interest in our project on Instagram and we've had positive feedback on our project from as far away as Canada.
Q – What are Blackmore's aims for 2015?
A – Obviously our immediate business goals is to have a sample manufacturing run completed by the end of January, and start work on trademark protection, product development and marketing.
We have suppliers in mind and are in the process of securing manufacturers in the long-term. As always we have been presented with a multitude of options outside the EU but we are adamant that we want to keep our manufacturing base within the UK, or at the very least, within the EU. It is our hope that we'll be in full production in Spring 2015 and that up to half a dozen local bike shops will start to stock our clothing range.
We wish Blackmore every future success and look forward to hearing how the company evolves in 2015 and beyond.
To read more about Blackmore's story and to back their project, visit their Kickstarter campaign page at https://www.kickstarter.com/projects/501955173/blackmore-apparel