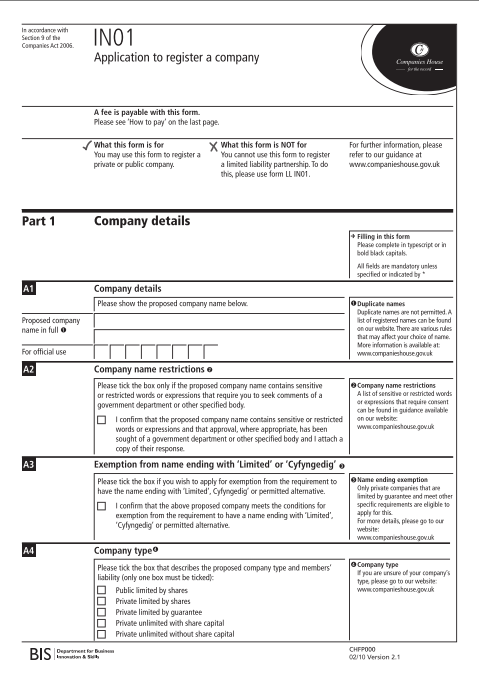 As you probably know by now, forming a limited company requires registration with Companies House, the company registrar within the UK. In accordance with the Companies Act 2006, there are a number of criteria that need to be fulfilled for proper and legal company formation.
Each year, thousands of new companies are registered with Companies House and the total list is now up to 2 million and counting. It is possible to carry out a company formation by yourself or alternatively, like many people, you may choose to use a formation agent. There are up's and down's to both.
DIY Company Formation
Trying to form a limited company by yourself can be a daunting and exciting time. You're keen to get started and looking forward to running your own business, but unless you have some sort of legal experience or a grasp on the jargon of company law then it can be a complicated and confusing undertaking.
In order to carry out a company registration you will need a few things. The list includes:
At least 1 Company Director – A human being of at least 16 years of age;
Shareholder(s) – Usually for a start up company a director will act as both;
A Company Secretary – Since October 2009, changes brought about by the Companies Act 2006 mean this is no longer a requirement of company formation, but it is still optional.
A Company Name – Obviously a key part of the formation process and running a business in general. I've written an article on choosing a company name and you should be aware of sensitive words when trying to pick a suitable name. The most obvious consideration is whether the name is actually available for use; check our company name search tool to be sure.
Companies House Form IN01 – An essential requirement for registration, this form contains company information such as the details of directors, shareholders, registered office address etc.
Memorandum of Association – A legally binding company article, the memorandum of association contains shareholder details, information on share distribution and more.
Articles of Association – Contains information on the management of the company.
Money – DIY formation direct with Companies House costs £20 for standard formation or £50 for a same day service. This is the minimum cost you will expect to pay, but does not include things like postage fee's and the cost of downloading templates or samples of the Memorandum and Articles of Association.
Time – Clearly, carrying out a company formation takes time. DIY formation can take a bit longer, especially if you do not know what you are doing, but also because it is carried out by postal submission and is subject to a first come, first served process at Companies House.
As you can see, there are quite a few things to consider. To get started you need to decide on the foundations of your company, how it will be run, how shares will be distributed, the company name, where your registered office will be located. Once you have done that you can download the Companies House form IN01 from Companies House website. The Memorandum and Articles of Association are a different matter. You will be expected to draft these documents yourself. Bearing in the legal nature of the articles, you need to be careful that they contain all the correct information, laid out in the correct way. Failure to get it right will result in your registration application being rejected by Companies House. You can download examples and templates of the articles on the web, they generally cost around £10+ each, but you need to be sure that your source is reliable and the forms are up to date with the recent changes implemented in 2009 by the Companies Act 2006.
Once you have all the forms and articles together you will need to ensure that all the proposed company directors sign where appropriate before submitting to the registrar. Submission is carried out by post, returned to Companies House in Cardiff (the address is supplied on the bottom of the IN01 form). To ensure your forms don't get lost in the post and the process gets delayed its best to send them in by recorded or secured post.
Once the forms (and the filing fee) arrive at Companies House, depending on their backlog it can take between 8-10 working days for your registration to be processed. You can pay for a same day formation service (£50) but it will only be on the same day the forms arrive at Companies House, not the same day you put them in the post box (obviously!). If your registration is successful then you will be issued with 1 paper copy of a certificate of incorporation to signify the birth of your company.
You can see, putting all of this together means DIY formation can take quite a while. Form IN01 alone is 18 pages long, then there's the research surrounding the Memorandum and Articles of Association as well as the time taken by the process itself.
Using a Company Formation Agent
Most people find that using a formation agent is the best way to set up a limited company. Using a professional company formation agent like TheCompanyWarehouse.co.uk actually costs less in time and money! And here's how:
Online Formation – The Company Warehouse is registered with Companies House as a filing agent, this means that we can submit company formations online. This means lower cost filing fees (see above) and a quick service.
No Paper Forms – Online registration also benefits from no paper forms. You fill out our simple online forms and we do the rest for you, this means you can avoid the 18 page IN01 form and allow the professionals to get on with drafting the company articles for you!
No postage costs – Electronic formation means you don't have to worry about postage costs or waiting around for the post man. We give you an electronic copy of your certificate of incorporation once the process is complete, so you can print as many as you like, rather than risking losing the single hard copy you get sent by Companies House when carrying out a submission yourself.
Going the extra mile – Being a company formation agent means much more than just providing a formation service. We go that extra mile and provide you with everything you might need to get your company off to the best start, this includes VAT Registration, Trade Mark Registration, Logo Design, Domain Registration and much more besides.
*subject to T&C's please see our site for more details.