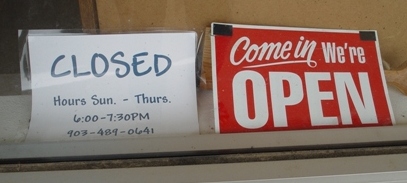 As news of the latest big high street name to go bust rolls in the finger of blame is often pointed towards the internet. Online shopping is blamed for undercutting physical stores on price while new technology such as digital downloads and ebooks removes the need for physical shops in the first place.
However the internet also offers a wide range of tools to help shop owners promote their businesses many of which can be used free of charge.
Websites – It sounds obvious to many people that having a business website is a good idea but there are still many small shops who do not have their own site. 74% of people use internet search as their first port of call when looking for local businesses and 80% of people report researching products and services online before buying them from a local business. Not having a website for is an almost guaranteed way to reduce footfall into a shop. You do not have to spend thousands of pounds on bespoke web design to get your store an online presence. Free blogging tools such as WordPress can be used to create simple, engaging business sites.
Maps – As traditional advertising routes such as the Yellow Pages fade into the collective memory internet search becomes ever more important in attracting customers. Google Maps and Bing Maps both give you the ability to create a business listing. Your shop will appear on their maps, improving your chances of showing up in searches. These listings allow you to describe your services, post opening hours and contact details so that people know what you sell and when you are open. This is especially useful as consumers increasingly use their smart phones to find businesses while they are out and about.
Location Services – As well as getting your business on maps there are a range of location based services which can be used to promote your business. Services such as Foursquare allow you to list your business location and offer rewards to people who visit regularly. Your most regular visitor in a given period can be crowned as the 'Mayor' of your shop and receive a free coffee, cake or a discount in return. There are various competitors to Foursquare including Facebook Places which are also trying to move in on this territory.
Social Media – A free, and relatively simple, way to build awareness of your business is to use social media. For instance a new restaurant near our offices currently has over 1000 followers on Twitter and they are not due to open for business for another couple of weeks. When they do open they will have a readymade customer base. Different social networks, such as Pinterest or Linkedin, may be more suitable for your business but building a social following will help to attract customers and keep them engaged in your business.
Email – Done well email can be a very effective way of retaining customers and getting them back into your shop on a regular basis. Letting people know on a weekly or monthly basis what is going on in your store, what new products you have or special events you are putting on allows you to get the word out quickly and easily. Email addresses can be collected easily through point of sale systems or through a clipboard and pen on your counter. Services such as Mail Chimp and Constant Contact allow you to turn these addresses into an active mailing list and to create and manage mailing campaigns.
Ecommerce – One reason often cited for the death of the high street is competition from online retailers. 12% of all retail spending now happens online at an estimated value of £77 billion in 2012 yet only around 33% of SMEs sell online. Having an online operation can increase stock turnover and open up new markets. Building your own ecommerce website is easier than ever but many businesses do well by operating on eBay, Amazon and other online marketplaces. eBay in particular can be an excellent way to clear dead stock or to try out a new product line without having to put a big investment into an ecommerce solution.
If you would like to discuss how internet tools can be used to promote your business, or to order a business website or full ecommerce package then why not contact one of our Business Consultants. Or why not read our review of Dee Blick's Ultimate Small Business Marketing Book or Dave Kerpen's Likeable Social Media for more ideas on promoting your business.