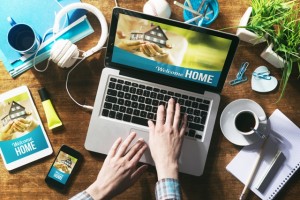 For most people having a website for your new business is a no brainer. The vast majority of people search online when trying to find a business, product or services so not having some kind of online presence means that it will be much harder for customers to find you. Even if you don't plan to sell directly online having a decent looking website with some information about your business is an important credibility boost when approaching new clients. Recent reports from The Department for Business, Skills and Innovation and the Office for National Statistics have found that:
The UK digital economy is worth £204 billion per year
14% of all retail spending is now online
98% of SMEs use the internet for business
Businesses with an online presence grow faster, export more and create more jobs
64% of SMEs have their own websites, a proportion that rises to 94% of medium-sized businesses.
53% of SMEs are listed in online directories.
36% of SMEs have a social media profile
How do businesses get found online?
Around 92% of people in the UK use Google as their main search engine and for most business this will be the primary way your website gets found. When we build websites for our customers how quickly they will get on Google and where they will appear on Google are their primary concerns. However Google search is not the only way that businesses can be found online.
There are four main sources of traffic for most websites. In order of importance they are:
Organic search – Responsible for 51% of traffic
This is where your business shows up in the standard Google search results. What most people care about is getting on page 1 of Google as this is where your website will receive the most hits. Depending on your industry and the search terms you are targeting this can be a difficult thing to achieve especially as Google constantly change how they rank websites. Some of the major factors which Google consider are:
Your Domain Authority based on the number and quality of inbound links to your website
The overall quality of the content on your website. How much of it there is and how it has been written
How well the content on your website matches the keywords people are searching for
Your overall brand presence online, whether people are discussing your website on other websites or on social media
Technical factors such as site speed, use of SSLs, implementation of sitemaps etc.
To get your website ranking in Google will normally require you to do some work on all five of these areas. We normally find that the best place to start is to identifying the keywords people are searching for in your industry. You then need to think about how your products and services relate to this and how you can create content which will answer people's questions and add value.
Having quality content on your website will give you something to promote on social media, help you attract inbound links and make sure you are matching what people are searching for. This ticks off four of the five main areas that Google are going to look at and will go you a solid base to build from.
Pay Per Click (PPC) – Responsible for 10% of traffic
Whenever you do a search on Google you will be shown adverts across the top of the search results and down the right hand side. These adverts are provided by Google Adwords and are typically displayed on a Pay Per Click basis. This means that the advertiser doesn't pay for the advert to be shown, they only pay when someone clicks on the advert. Depending on your industry and the search terms being targeted a single click on an advert will cost anywhere from £0.10 to £15 or more. As a result PPC advertising can be an expensive way to get people on your website, especially as there is no guarantee they will buy anything once they get there. However, when done well PPC advertising can be a great way to increase up your online audience. This is especially useful in the first few months of a new business while your website's organic rankings are still developing.
As well as running PPC advertising alongside the Google search results you can also run display adverts. These are the banners and images you see on different websites. You can choose to target your adverts at specific types of websites and at specific groups of users in order to build up brand awareness among your ideal customer base. So, for instance, if you were opening a new gym you could target display adverts at people who live within a 20 mile area of your gym and who visit sports and fitness sites. As with the search adverts you only pay if someone clicks on the adverts and you can set a daily budget to limit the costs.
Ultimately whether running PPC advertising (either search or display) is good for your business comes down to calculating your Return on Investment (ROI). That is how much you are spending to get customers to click through to your website, how many of them are buying something and what the profit on those purchases is.
Social media – Responsible for 5% of traffic
Being active on social media helps with your organic search results as it demonstrates to Google that your business is active online and spreads your brand name. But it will also generate traffic to your website independently. Social media accounts are a great way to promote new products and promotions, especially if you can include good images or videos as media rich social media posts have been shown to have higher engagement rates.
The best kind of social media content is often helpful or inspirational but ultimately it needs to connect with the interests of your customer base. So if you are in the fashion industry you might want to share the latest trends and looks. If you were in a food business then you may want to share your favourite recipes. If you are in the construction industry then you might want to talk about the latest materials or techniques. Most businesses will have their main content on their blog and then link to it from social media, thereby constantly driving traffic to their website.
If you already have social media accounts (such as Facebook and Linkedin) you can use them to promote your website but you will probably also want to setup standalone business accounts on each network so that your personal and professional messages don't get mixed up. There are lots of different social networks out there so it is worth picking a couple that are a good match for your business and focusing on them.
What about the other 34%?
The rest of your traffic is classed as either 'direct' or 'referrals'.
Direct traffic is from people who type your website address straight into their browser. These are normally either returning customers or people who have heard about your business through your offline marketing or word of mouth. Some of this traffic is also referred to as 'dark social'. This is where people have shared a link to your website in an email or via a text message with a friend or colleague.
Referral traffic is where people have clicked on a link from a different website to get to your website. If you have listed your website on industry directories, or if you are listed on your supplier's websites this can be a good source of referrals. One of the best sources for new business is getting a story about your business in your local papers or on an industry website. The search engines see links as a sign that your site is important so as well as getting you traffic immediately having a number of sites referring traffic to you will boost your long term organic performance.
How to get started
The first thing you are going to need is some kind of website but many businesses actually start off with a blog. Google loves blogs and they are a great way to start building up content and to get your business found online. Lots of people start a blog before they have a real business going as a way of testing the waters and seeing how much of an audience they can build up.
To get started with your content and social media you can download our free How to Get on Google & How to Promote your Business on Social Media guides. Our business consultants can also provide you with links to Google's own guides on SEO and getting your website ranked. Just contact them through our website or give them a call on 0800 0828 727.