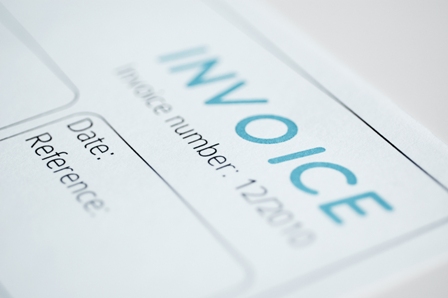 One of the first things many new businesses need to learn to do is how to issue an invoice. If you are selling to other businesses, doing building work or anything other than fairly straightforward retail sales you will need to give your customers an invoice before you get paid.
According to the official government advice an invoice must have the word 'invoice' written clearly on it and must also include:
A unique invoice number
Your company name, address and contact information
The name and address of the customer or company you are invoicing
A clear description of what you are charging for including quantities
The date the goods or service were provided
The date the invoice is being issued on
The amount being charged (ideally including the amount for each item) with a subtotal
The VAT amount (if you are VAT registered)
The total amount owed including VAT
It is also a good idea to tell your customers how to pay you (including bank details) and when you expect to be paid by. If you VAT registered then you will need to issue a VAT invoice which includes some extra information such as the VAT rate being charged, your VAT number and the taxable date.
Traditionally many small businesses would have an invoice book full of pre-printed invoice templates which they could fill out. These would have the company details and invoice number already on them so all you needed to add was who the invoice was to, what was being sold and for how much. While this might still be appropriate if you are issuing invoices on the spot most people now prefer to create an invoice on their computer and print or email it as this looks a lot more professional. A fairly cheap way to generate invoices is by using a Word template.
Advantages of Word Invoices
Cheap to do (if you already have word)
Multiple templates available
Easy to edit to include your logo and company details
Disadvantages of Word Invoices
Time consuming to create
Do not link with bookkeeping software
Can be hard to manage once you have a lot of clients
In the last couple of years many people have started to move away from using Word templates as cloud based bookkeeping solutions have become cheaper and easier to use. It is now possible to rent bookkeeping software for a few pounds a month which will automatically generate invoices and email them to clients when you record the transaction. This has many advantages:
Cloud software can be accessed from anywhere so invoices can be issued quickly including from smart phones and tablets
When a transaction is recorded in the bookkeeping software the invoice is automatically created with all of the correct information
The software will automatically calculate things like VAT amounts
You can easily run reports to see who has, and who has not, paid invoices
You can easily report on what people are buying from you rather than having to sift through past invoices
Invoice templates can be saved in the software with your logo and details on so they look the same every time
Invoices can be printed or emailed directly to clients
A copy of all invoices issued is automatically stored so you don't have to worry about saving them
The video below shows the process for creating an invoice on the cloud based bookkeeping software that we provide to our clients.
If you are only going to be issuing 1 or 2 invoices a month for relatively small amounts then it may not be worth getting specialist bookkeeping software. However as the software is available from between £5 and £10 per month you do not have to be doing very many transactions for it to start paying for itself. This is especially true if it is going to save you the hassle of working out how to set-up your invoices in the first place.
If you want to try before you buy you can get a free trial of our cloud based bookkeeping software on our website or by giving us a call on 0800 0828 727