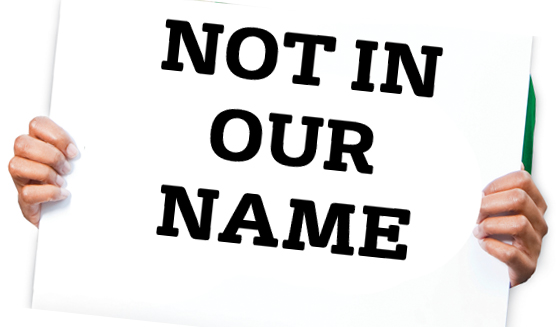 We recently wrote about the trademark dispute around the term Social Enterprise. To give a quick recap the term Social Enterprise is used by a wide range of governmental and non-governmental bodies in the UK. It generally describes "business driven by social and/or environmental" motives. The dispute has arisen because an American company called Salesforce.com, which provides software to a lot of these businesses 0has attempted to trademark the term "social enterprise". Their opponents are led by a UK based organisation called Social Enterprise UK. They fear that if salesforce.com's trademark application was successful they could, in theory, bring legal challenges against people who used the phrase.
The "Not in our Name" campaign launched by Social Enterprise UK has gained a fair amount of press interest. Enough, at least, for the American company behind the trademark application to try and limit the damage. In a series of blog posts and emails the senior management of Salesforce.com have responded to the Not in our Name Campaign. Their defence centres around the way the trademark system works.
Trademarks are divided into classes. So one class would cover bicycles, another would cover guitar amps and another deal with mobile phones. That is why three separate companies are allowed to make bikes, make guitar amps and sell mobile phones while all using the brand name Orange. Because they are in different trademark classes there is little chance anyone will mix the companies up or confuse the brands.
Salesforce.com have pointed out that they have only applied to trademark "Social Enterprise" in two out of forty five possible trademark classes. Salesforce.com argue this shows their intention has never been to claim ownership over the phrase Social Enterprise, but simply to protect their software. They believe that the future of software will be based around social networks, something they call "social enterprise technologies". They have gone onto state that:
Salesforce.com does not own or intend to own the trademark rights for the term social enterprise within the nonprofit sector, and is not seeking to restrict descriptive uses of the phrase by others in philanthropy, social responsibility, community involvement or mission-driven organizations
This has not satisfied everyone though. Some of those behind the Not in our Name campaign have pointed out that not all social enterprises are non-profit and philanthropic  and that many social enterprises choose try to achieve their aims through the use of technology. So even with Salesforce.com's reassurance about the scope of the trademarks they could still have an impact. Others have pointed out that the two trademark classes that Salesforce.com has applied for don't just cover socially driven software. Included in the two classes Salesforce.com has applied within are:
Processing and output of multimedia data on computer networks, including the Internet, and on mobile terminals
Publication of printed matter, books, newspapers and/or periodicals
Conducting entertainment events, cultural events, live cultural and sporting events, training events
Arranging and conducting of conferences, congresses, concerts and symposiums, seminars, training courses, instructional and lecture events (cultural or educational purposes)
Arranging of exhibitions for cultural purposes, arranging of entertainment shows
Entertainment in the form of information on entertainment services via computer networks.
If Salesforce.com were successful then they could attempt to limit the use of the phrase "Social Enterprise" in these areas.
With Salesforce.com's arguments not convincing their opponents, and Salesforce.com's seeming unwillingness to drop their trademark case, this looks like it could run and run.
This case highlights the importance of trade marking early in a business, or other project. If your business or project name is trademarked you don't get into these kind of disputes. Likewise it highlights the problem of trying to get a trademark on generic terms to which other people can lay a claim.
If you are thinking about getting a trade mark for your business we recommend conducting a trademark search as a first step. We can conduct the search for you and produce a report on how trademarks can be applied to your business, for only £33.
Updated 6th September 2012 – This case has now been resolved. Salesforce have withdrawn their trademark application and agreed to stop using the phrase Social Enterprise in connection with their business. The head of Social Enterprise UK has made the following statement:
"I would like to thank Marc Benioff for his personal engagement in this issue and his concern for the welfare of the world's growing social enterprise movement.  We are delighted that Salesforce has made this decision and it's absolutely to their credit that they have taken it publicly, offering an unequivocal statement of their future intentions.  We have been impressed by their honesty and integrity.  We know that this is no small deed.  Much time and effort has been put in by Salesforce and some of their customers to developing and marketing their version of 'social enterprise'.
Peter Holbrook, Social Enterprise UK CEO