We recently reported the unexpected rise in EU citizens being appointed directors of UK limited companies. We had expected to see a dramatic drop in the number of EU citizens forming UK companies post-Brexit, so were surprised to see them increasing.
In order to better understand what is happening with EU citizens forming UK limited companies we have been looking at these statistics in more depth. We have been looking both at the national picture for company formations and more specifically at what is happening in London.
Post-Brexit EU Company Directors – UK Wide 
Across the UK there have been 37,347 new limited company directorships[1] Post-Brexit (this covers the period 24th June to 17th July). Of these new company director appointments 4474 were EU citizens; 12.8% of the total. EU citizens are, therefore, still continuing to make a significant contribution to entrepreneurial activity in the UK despite the vote for Brexit.
Post Brexit activity by EU citizens does vary according to country. While Romania and Poland have provided the largest numbers of new UK company directors since Brexit. They are trending in opposite directions. There has been a big percentage increase in the proportion of company directors from Romania since Brexit while the proportion from Poland has gone down.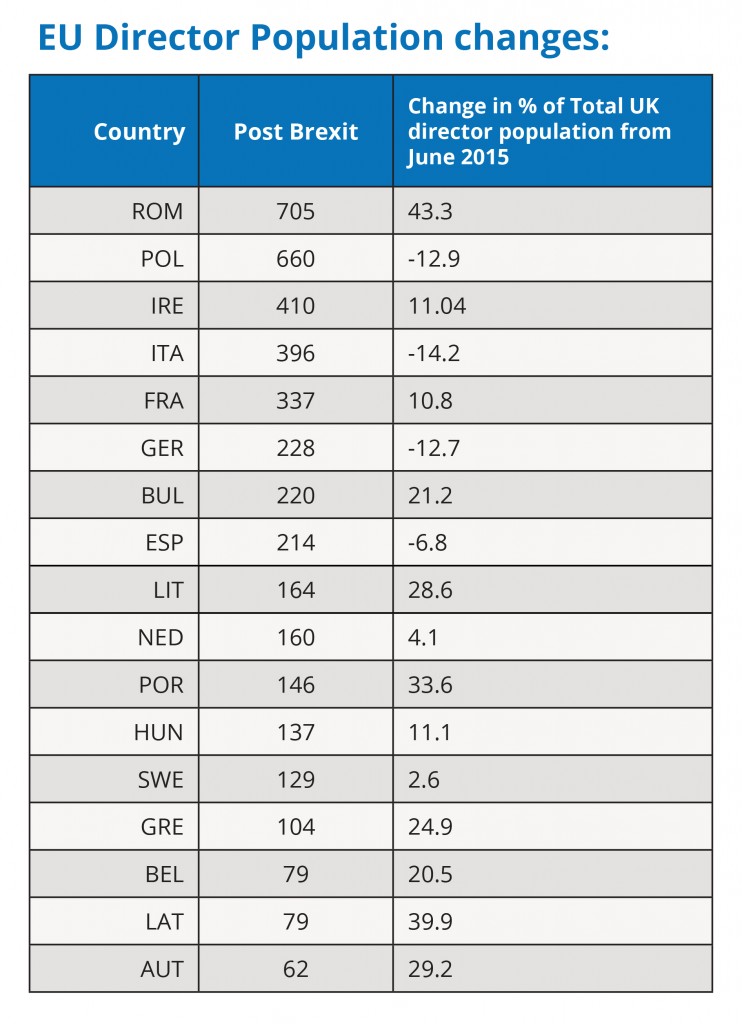 Of the EU citizens listed as UK company directors the vast majority live in the UK. Of the 4474 EU citizens listed as UK company directors since Brexit only 306 are not UK residents. However, these 306 people account for 35.47% of all overseas directors forming limited companies in this period. This represents a rise from June 2015 when 27% of overseas directors were UK citizens.
In the same post-Brexit period there were 647 Directors who are not UK citizens and are resident overseas (including EU Citizens). 66% of these are Directors of a business that has a London address for it's registered office. This percentage has remained stable since the Brexit vote. In June last year there were 1737 non-UK citizens who were resident overseas of which 1150 were directors of a business with a London registered office address, this is also 66%.
Post-Brexit EU Company Directors – London
We know from past company formation research that London has historically been the most popular location for new company formations in the UK. In June 2015 18,940 new company directors listed their address[2]  as being in London, representing 30.8% of all UK company directorships. In the post Brexit period 32.1% of new UK company directors were created with a London address, showing that London continues to be the mainstay of EU entrepreneurial activity.
While the overall percentage of UK companies being formed in London has remained strong since the EU referendum we wanted to see if there had been any significant change in activity by EU citizens.
Outside of London EU citizens have accounted for 7.9% of new company directors since the EU referendum. In London 2165 EU citizens have been appointed as new limited company directors since the Brexit vote, accounting for 18.1% of all London Directorships. This is up from June 2015 when EU citizens accounted for 17.5% of the director population in London.
So as with the national picture there has been no significant drop in EU citizens forming limited companies in London since the Brexit vote. Indeed the percentage of companies being formed in London by EU citizens has gone up. As with the national picture the largest group of new company directors in London come from Romania. On a national level the Polish are a close second in company formations but in London they are being pushed into third position by the Italians, showing the different dynamics at play in the London economy.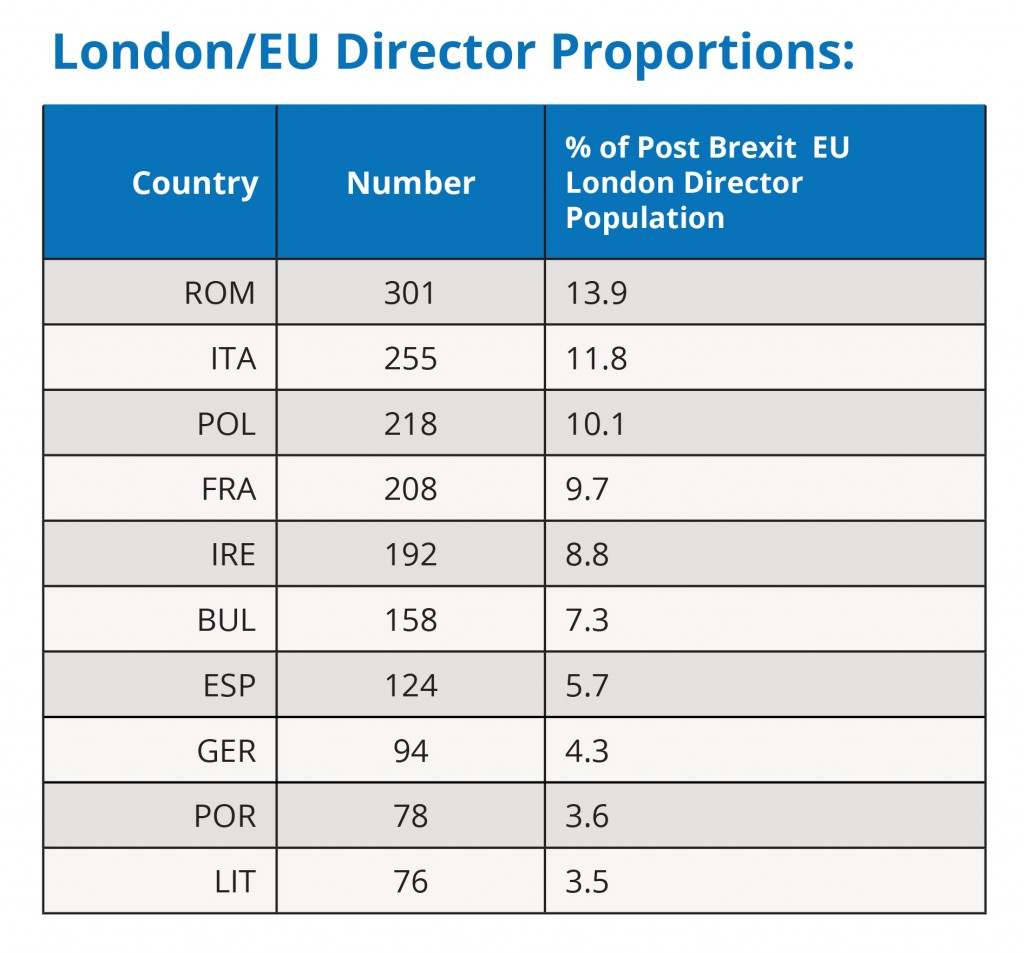 It is obviously still early days since the EU referendum so we only have less than 1 month's worth of data to go on. However this does show a clear picture both nationally and locally in London. This is that EU citizens are continuing to form new UK companies in large numbers and that London remains the most popular place in the UK for new company registrations.
 [1] This is the Director's usual residential address or service address. [2] UK companies including England, Wales, Scotland and Northern Ireland.
Attribution, copyright and Licencing:
Author:  www.thecompanywarehouse.co.uk
Title: Post Brexit Director population report – London.

This work is licensed under a Creative Commons Attribution 4.0 International License.