Our recent analysis of post-Brexit data shows that thousands of people have been starting new UK companies since the EU referendum, including lots of EU citizens. We have also been looking at where in the UK new company directors live to show how different areas have reacted to the Brexit vote.
To try and level out differences in population between different areas of the UK we have looked at proportion of directors in each area. We have then ranked each county in England according to the proportion of the population becoming company directors since the EU referendum vote.
London remains by far the most popular place in the UK for directors to set up new companies with 30.2% of new company directors having a London address. Our latest analysis shows that this translates to almost 1 in every 700 people in the capital becoming the director of a limited company since the Brexit vote. When you consider that only about 28% of active businesses are limited companies this indicates the massive numbers of Londoners involved in starting their own business since the referendum.
At the other end of the scale only 1 in every 6000 people in Worcestershire has become a company director since the Brexit vote. Lincolnshire, which had one of the strongest votes for Brexit in the UK, is 33rd out of 46 for new company directors being appointed with only 1 in every 2800 people becoming directors since the Brexit Vote.
Take a look at the table below and see how your country ranks in post-Brexit entrepreneurial league tables.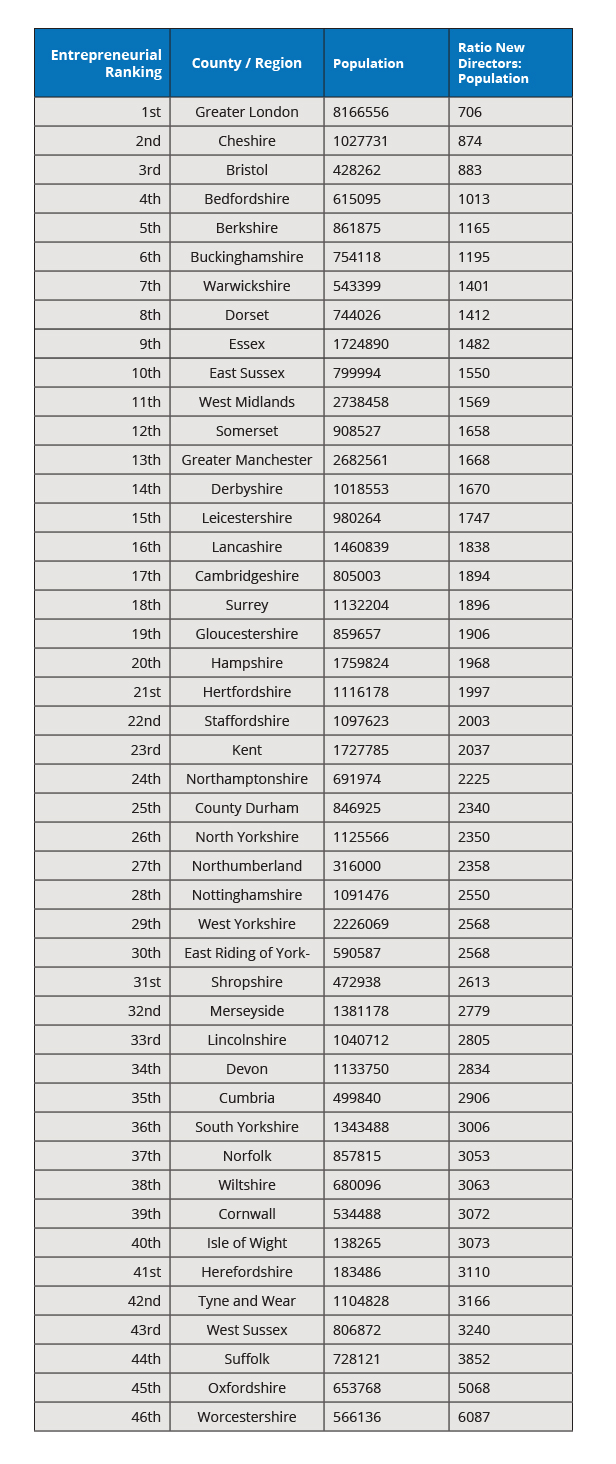 Attribution, copyright and Licencing:
Author:  www.thecompanywarehouse.co.uk
Title: Post Brexit: Where are the most entrepreneurial counties in the UK?

This work is licensed under a Creative Commons Attribution 4.0 International License.