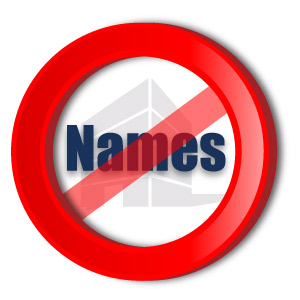 There are situations where both company and business names may be prescribed or prohibited from use. The rules surrounding the naming of both businesses and companies are contained within Chapter 46 of The Companies Act 2006, The Company and Business Names (Miscellaneous Provisions) Regulations 2009 and The Business Names Act 1985. There are a number of rules and governances which can lead to confusion when people are trying to choose a company name. The law however, is not a complex as it might first seem. Simply put, it is put in place to protect the public from abuse and misnaming of companies and businesses in an effort to mislead or exploit them. The regulations also protect companies themselves from having their goodwill and reputation damaged by other individuals trying to pass off their business under the same name.
"Sensitive Words"
When it comes to carrying out a setting up a limited company there are a number of rules surrounding the use of certain sensitive words within the company name. Certain words are prescribed in use for a number of reasons, because they imply some authority, association with a legal or government body or a regional relationship which might not exist. The use of these words is not technically prohibited from use in a business name, merely prescribed, meaning that certain criteria have to be satisfied, according to the word and the category that it sits in. As long as the criteria are satisfied, then the company name may still be used.
In some cases, approval is required by the Secretary of State before a sensitive word can be used in a company name. In practice, this approval is generally granted by Companies House, as long as the correct criteria are satisfied. For other sensitive words, approval of a specific body might be required before registration can be carried out. For example, to use the words "Data protection" in a company name, the law requires that the approval be sought from the Information Commissioner's Office.
The Company Warehouse has a wealth of experience in dealing with the registration of company names containing "sensitive words". Our specialist team can provide you with the guidance and support you need to get your new company registered with your chosen name including guidance on how to satisfy the relevant criteria. There is a small nominal charge for using a sensitive word in a company registration due to the extra steps and paperwork taken to satisfy Companies House that the regulations have been satisfied.
"Too Similar" or "Same As"
Chapter 3, Section 66 of the Companies Act 2006, states a situation where the use of a company name might be prohibited. Where a person is trying to register a company name which might be deemed as "too similar" to a company name already on the register, then Companies House may reject the company name and/or issue a change of company name direction. This might occur where someone is intentionally trying to misleading the public into thinking they are associated with the previously registered company and therefore taking advantage of the goodwill or for other reasons, but generally the chosen company name will be declined or if it somehow slips through, the new company may well find itself subject to a company name change order.
"Offensive" Names
Company names which are deemed to be offensive will be prohibited from use in registration. This rule is quite self explanatory and prevents offensive names appearing in the market place.
Misleading Or Inappropriate Names
Section 58 of The Companies Act 2006 states that depending on the type of company to be registered, a company must use certain characters or words as part of its company name. So, for example, a limited company is required to either use the word limited or the letters Ltd as part of its company name. In much the same way a public limited company must use the words public limited company or Plc at the end of its company name. The clearly states that both businesses and companies may not use these words if they are not in fact such a body. Therefore a sole trader could not use the word "limited" as part of his business name and a private limited company could not try to imply it was something else by failing to use "Limited" it its name or using "LLP" or "PLC" instead.
For more information on prohibited or prescribed company names please consult our Sensitive Words page and our Company Name Change service or speak to one of our business consultants on 0800 0828 727.