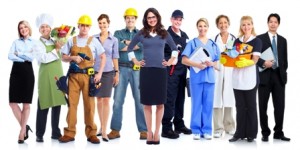 One of the biggest drivers of new limited company formations in the past couple of years has been contractors and agency workers. The use of limited companies by highly paid and skilled consultants and IT contractors has been well established for a number of years. In part these kind of high earning contractors have worked through their own limited company because they are often involved in high value contracts and the limited company helps give them some legal and financial protection if things go wrong. However, high earning contractors could also use their limited companies to pay themselves in a much more tax efficient manner than if they had a regular job. Taking a mix of regular PAYE salary, dividends and directors loans to maximize take home pay and minimize tax paid to the government.
In the last couple of years the type of people using limited companies has expanded. As a company formation agent we regularly see nurses, HGV drivers, couriers and care staff forming limited companies so that they can work as contractors. In most cases they have been asked to do this by an agency who will be finding work for them. The advantage for the agency is that because they are dealing with another limited company, and not with an individual, they don't have to bother about things like sick pay or employment rights. The advantage for the contractor is that they can use the mixed method regular PAYE salary, dividends and loans to boost their pay by avoiding tax.
This trend has caused a number of problems, not the least of which is that the government ends up getting less tax and national insurance every time someone switches from a regular PAYE wage to being paid through their own limited company (often know as a Personal Service Company). In order to try and reduce the use of Personal Service limited companies, and get tax receipts back up, the Chancellor announced a number of changes in the recent summer budget.
Dividends
The most tax efficient way to take money out of a limited company is often through dividends. Dividends are a share of the company's profits after all taxes have been paid. They are traditionally used to give shareholders a bonus when the company has had a good year.
For standard rate tax payers the tax on dividends is typically around 10% once the various tax credits available have been used. This is half the rate of tax you would pay if you took the same money out of the company through PAYE wages. Currently there is no limit on the amount of money you can take as a dividend. It can therefore be advantageous to take a large chunk of money from your company through dividends.
The changes announced in the summer budget mean that the dividend tax credits are being abolished and any dividends over £5000 will become taxable. They still won't be taxed in full but the changes recognise that an increasing number of people have been using dividends as the main way to take money from their company rather than taking a salary which can be taxed at the normal rate.
PAYE
As the benefits of using dividends to take money from limited companies is going to be reduced people are more likely to take money from their company through PAYE. However this is also going to become more expensive for contractors. The Employment Allowance, which subsidises employer's National Insurance contributions, is being withdrawn for companies where there is a single company director and they are the only employee. This allowance is currently worth £2000 per year (rising to £3000 next year) so it will add a significant extra tax contribution to single director limited companies. In addition to the withdrawal of the Employment Allowance people wanting to pay themselves through PAYE will also need to make sure they are complying with the new National Living Wage.
Expenses
One of the benefits of using a limited company when working as a contractors is that all sorts of expenses can be claimed back before tax. This normally covers things like training and equipment but can also include travel, food and accommodation. In a further effort to clamp down on the use of limited companies by contractors and agency staff their ability to claim expenses is being restricted.  First announced in the March budget these changes mean that contractors who are 'supervised, directed and controlled' will no longer be able to claim travel and subsistence expenses. This mainly looks to be aimed at people who use umbrella companies but could also impact on contractors who work for agencies using their own limited company. Essentially the government wants people who act like employees to be treated like employees when they are taxed. So if you work for an agency who find work for you, tell you where to go and when, and sort out your expenses and wages for you then you shouldn't be able to claim the same kind of expenses as someone who does all of that work themselves.
Is it still worth forming a limited company?
The clear intention from the government is to level the playing field between regular employees and limited company contractors in terms of the amount of tax they pay. For the high skilled, and high earning, who have traditionally used limited companies it will likely make sense to continue. The employment allowance and dividend changes will likely add a few thousand extra per year to their tax bill but they will still be able to pay lower tax than if they had a regular job. They will still be able to claim expenses and will still have the legal and financial protection of a limited company.
The people who are going to be hit hardest are the lower paid drivers and care workers who work for agencies. The government would prefer these people to be employees of the agencies (and have employment rights) and so is removing their dividend credits, employment allowance and expenses. The hope being that this will make agency workers realise that it isn't worth the trouble of having a limited company anymore and to gradually force the agencies they work for to take them on as normal employees.
Will this effect you?
If you currently work as a contractor through a limited company, or thinking of going limited, and aren't sure how these changes will impact you we can help. Our partners at Pinnacle Accountancy can examine your circumstances and work out the best way for you to take money from your limited company. You can give them a call on 0845 880 2557