Often when people talk about start-up businesses what they really mean are new technology companies. Or, more specifically, a venture capitalist funding website or app based out of Tech City or Silicon Valley. While these kind of new businesses attract a lot of media attention they are not representative of the thousands of sole traders and limited companies registering their new businesses on a daily basis. Most new businesses are not tech based or tech focussed. However it is becoming increasingly important for all new businesses to have some kind of online presence and to know how they can use websites, social media and other online tools to grow their business.
As our infographic shows the UK online economy is now worth around £600 million per week. But online presence also drives traffic into bricks and mortar shops with 74% of people using online searches as their primary method for finding local businesses and 80% of people researching products online before buying them. So even if you do not want to sell online (or have a product or service which cannot be sold online) it is vital to have an online strategy to attract those customers. With 48% of consumers combining social media and online searches to make buying decisions the online strategy for your business should go beyond just having a website.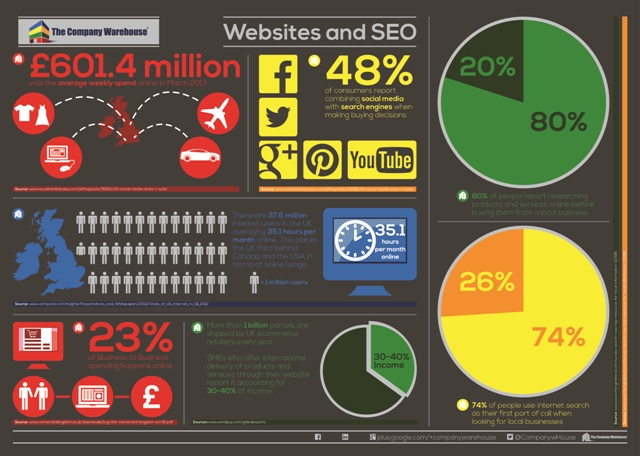 If you need help developing an online strategy for your new business give our consultants a call on 01245 492777 or contact us via our website.