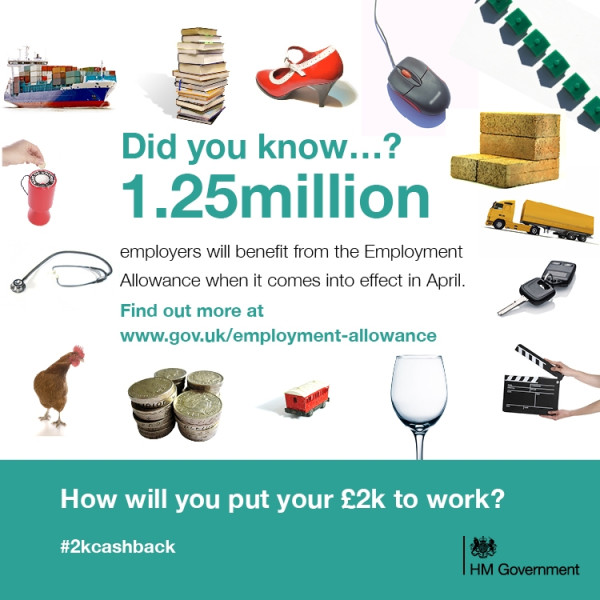 The Chancellor is going to be writing to all small businesses and charities in April to tell them about a new tax allowance. They will be able to claim a £2,000 allowance on Class 1 National Insurance contributions. Basically this means that if you employ someone on £22,000 per year you will not have to pay any class 1 National Insurance Contributions for them.
The government have provided an online calculator so you can work out how much your business might save by using the allowance: http://www.employmentallowance.com/allowance-calculator/
How to claim the allowance
The new national insurance contribution has to be claimed with HMRC (they will not give it to you automatically). This can be done through your payroll software or through the HMRCs Basic PAYE tool. If you outsource your payroll to a managed payroll service then they should be able to do it for you.
Who can use the new allowance?
To take advantage of this new allowance businesses have to be paying employees through the PAYE scheme which will mean they are making the Class 1 contributions in the first place. Most businesses and charities should be able to claim the allowance but there are some specific exemptions. You cannot claim the Class 1 National Insurance allowance if:
You primarily provide services to public services such as the NHS or prison service (unless these services are cleaning, security or IT)
People who run Personal and Managed Service Companies may not be able to claim the allowance depending on how they are paid (this primarily applies to contractors)
You can't claim the allowance on people you employ for domestic or home work such as a nanny or cleaner.
You can see a full list of who can and cannot use the scheme by downloading the Employment Allowance: further guidance PDF