We took a look at the Success in Challenging Times: Key Lessons for UK SMEs report from the University of Surrey a couple of days ago. We have already written a blog post on its findings about how start-ups and small businesses finance themselves. But the research covers some other interesting areas including the networks that small businesses in the UK use to generate leads and grow their profile.
It is easy to spend a lot of money very quickly on advertising and marketing without getting much of a return. For many businesses the key to success is getting their products and services in front of the right people at the right time. While there are lots of excellent marketing books out there it is also useful to know what real small businesses think are the best ways to promote their businesses. The University of Surrey research asked people to grade different types of networking activity on a scale from 'Not Important at All' to 'Extremely Important'. Taking the figures from the important side of this scale we can see that small businesses consider a wide range of networking activities to have some importance. By far the most important networking activity was found to be earning direct referrals to their business through personal contacts. This supports what most marketing research says in that face to face referrals are the best form of advertising any business could have. The fact that SEO shows up as the second most important factor shows the continuing importance websites as a marketing tool for small businesses.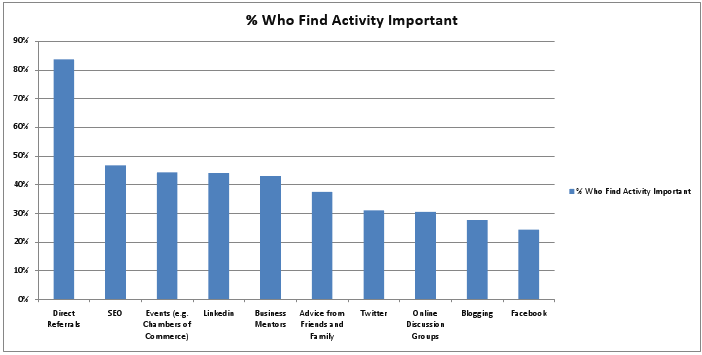 The rest of the networking activities that small businesses found to be important were a mix of online and offline activities. Chambers of Commerce meetings and Business Mentors were both seen as important (although the researchers point out that a large proportion of their survey sample were Chambers of Commerce members, perhaps distorting the figures). It is interesting that different online social networks varied in importance with Linkedin being seen as important by 44% of small businesses but Facebook seen as important by only 24% of small businesses.
However when we look at the networking activities that small businesses felt were 'Extremely Important' we can see that the ratings for all of the social networks drop below 10%. In fact the only networking activities that are really seen as being Extremely Important are direct personal referrals and website marketing through Search Engine Optimization. The University of Surrey research also found that creating websites is one of the most common things for small businesses to outsource.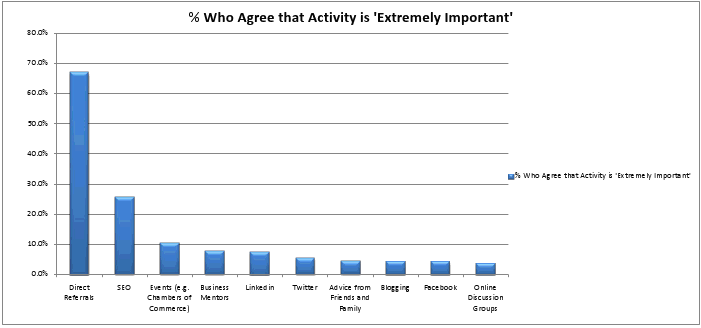 So if you are starting or trying to build a small business then getting a website built is going to be important. However the most important thing that you can do to promote your business is encourage your network to make direct referrals to your business.