Getting funding is one of the biggest challenges for start-ups and small businesses. Traditionally a bank loan would help new businesses get off the ground or fund their growth. However since the financial crisis hit in 2008 the banks have been increasingly reluctant to lend. There have been a number of reasons for the banks not lending. These include new requirements for banks to hold more money on their balance sheet, a general lack of funds in the market and a new ethos of risk aversion. The unwillingness of banks to lend to businesses has become a political issue as new business have been unable to start and existing business have not been able to expand, or in some classes have been forced to shut down, due to lack of funding.
The government have tried a number of different tactics to encourage the banks to lend to new and small businesses. The government has even announced plans to open their own business bank (although this has yet to happen). So far, though, nothing has worked. The latest figures from the Bank of England show that funding to small businesses by the banks is continuing to fall. As this graph from the Bank of England dramatically demonstrates lending by the banks has decreased dramatically from 2008 levels.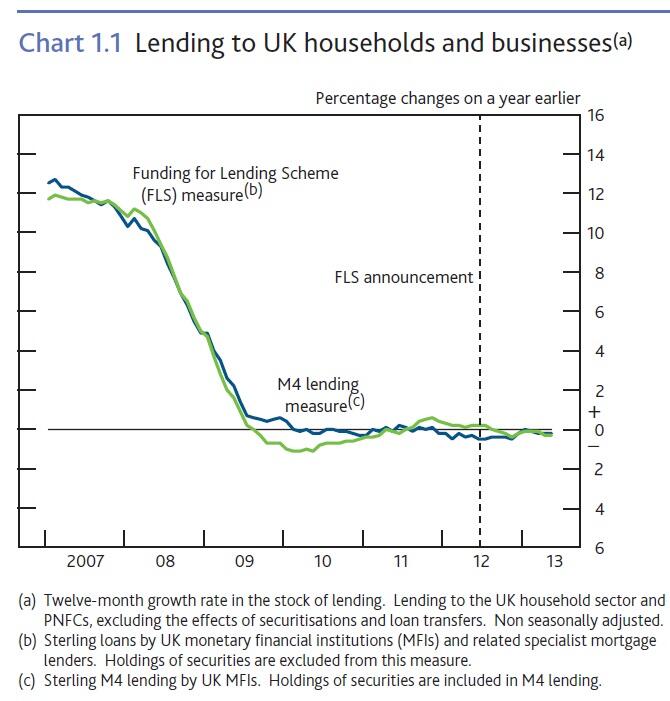 At the same time new funding providers are seeing the opposite happening as can be seen from the graph below which shows the amount of money lent by alternative finance providers Funding Circle.
While the data from Funding Circle does not show the whole picture it does give an indication of what is happening to the market for business lending. As the Bank of England have reported:
… businesses may have alternative sources of finance to borrowing from banks. Contacts of the Bank's network of Agents recently reported a growing use of non-bank finance by SMEs, albeit from low levels, including from peer-to-peer lending, crowd funding, venture capital funds, and insurance companies and pension funds.
Funding Circle are themselves run a peer to peer lending marketplace for small businesses and have received aid from the government to boost the amount of money they can put into businesses.
What we can see happening then is a gap in the market created by the big banks refusal to lend and that gap being filled by a range of new organisations. For start-ups and small businesses this means that there are many funding sources open to them rather than having to rely on a single yes or no from their bank. This change to the funding market has the potential to make small businesses much more independent in how they control their funding and more flexible in how they can respond to their own business needs. It should also, hopefully, mean that a broader range of start-ups can afford to test out their ideas in the marketplace.