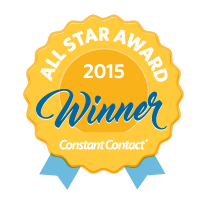 The Company Warehouse have been named a 2015 Online Marketing All Star Award winner by Constant Contact, one of the world's leading providers of online marketing tools. John Orlando, chief marketing officer at Constant Contact has said that "Our All Stars are leading the way, showing us the difference online marketing can make for a small business."
The annual award recognizes the most successful 10% of Constant Contact's customer base, based on their achievements leveraging online marketing tools to engage their customers and drive results for their organization. At The Company Warehouse we primarily use Constant Contact's online marketing tools to help new startup businesses understand the next steps after company formation or business registration. This includes providing brand new startup businesses with information on dealing with HMRC, creating their first invoices, getting on Google and marketing their business online.
One of the things that we like about the Constant Contact platform is that it is very easy to create new campaigns and to copy and modify existing ones. This allows us to constantly update and adjust the material we send out to customers. Sometimes we do this to take account of the most recent legislation or marketing trends, sometimes just to provide more useful information. So, for instance, we have recently been adding a lot of video to our marketing materials so that we can show startups the steps for creating invoices and claiming expenses in a more visual form.
The criteria used to select this year's All Stars included:
Level of engagement with email campaigns
Open, bounce, and click-through rates
Use of social sharing features
Use of mailing list sign-up tools
Use of reporting tools
Constantly adjusting and perfecting our online marketing campaigns has allowed us to steadily improve our performance in each of these key areas.
Helping Startups Benefit from our Experience
One of the benefits of the constant experimentation we do with our own marketing is that we can pass on the best bits to the startups we work with. Rather than having to do their own experimentation we can go straight in with tried and trusted techniques that we know will get them results.
This is true in writing content and blog posts, updating social media, doing traditional SEO work and conducting more interactive online marketing campaigns. All startup businesses who do a company formation with us, or register on our site, get allocated a Business Consultant. Part of what the consultant do is talking to new startup business about the best ways to promote themselves online and sharing information with them about best practices.
For those businesses who don't have the time to learn about online marketing themselves, and who want faster results, we also provide managed digital marketing services. Our digital marketing team bring together all of the experience we have gained from our own online marketing with best practices from across the web to help new startups kickstart their businesses.
You can Digital marketing services for startups we provide to startups and small businesses by visiting our website or by giving our Business Consultants a call on 0800 0828 727