A number of reports published in the last year looking at digital skills in small businesses, and in the general workforce, but very little work has been done on early stage startups. The Company Warehouse have been looking at newly registered businesses and how their digital skills compare with established small businesses. Our new study BamGoogled: Digital skills among newly registered businesses, and have found that the digital skills of startups are generally worse than those of established businesses.

Being able to get to grips with digital marketing is essential for nearly all new businesses as they fight for market share. Being able to use websites, social media, email marketing and other digital techniques allows today's startups to reach thousands of new customers much more cheaply and effectively than using traditional methods. A recent study of Regional Entrepreneur Of The Year awards from the USA found that the winners had "cracked the code of digital transformation by putting digital technologies at the core of how their businesses operate".
BamGoogled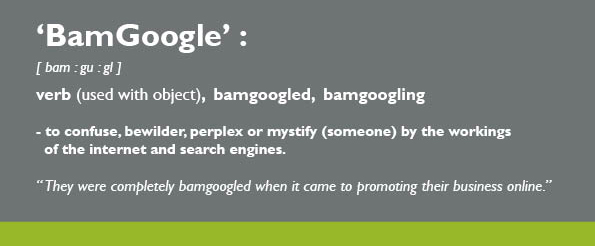 While some new startups are able to capitalise on the power of digital marketing most cannot. We refer to them as 'BamGoogled'.  As the internet has evolved and grown the digital marketing space has become increasingly complex. New businesses attempting to launch into an established marketplace will need to get to grips with a whole host of techniques and technologies. Just to cover the main digital marketing bases they will need to get to grips with ranking factors, on-page SEO, content marketing, social media marketing, email marketing & PPC advertising. They will need to be able to track their progress using a range of analytics tools and constantly refine how they are progressing. Of course they need to do all of this while actually selling things to customers and fulfilling orders. It is the bewildering array of topics and techniques that startups need to master that leaves many of them 'bamgoogled'.
Bamgoogled startup businesses tend to respond in a number of ways:
They don't engage with digital marketing at all and lose out on the benefits it could bring to their business
They build a basic website, don't promote it and then get disheartened that they are getting no customers though it
If they can afford to they pay other people to do digital marketing work for them
Unfortunately lack of knowledge on how the search engines and social media work can often lead startups to make bad decisions when choosing to buy digital marketing services. The Company Warehouse have spoken to dozens of companies who have spent hundreds, and in some cases, thousands of pounds with spammy SEO companies who promise to get them to number 1 on Google.  Sometimes these companies succeed for a short time but more frequently they simply spend the money on adverts   or engage in techniques which will ultimately damage the startups' online presence.
Overcoming the Bamgoogle Issue
So whether a startup business wants to do their own digital marketing, or outsource it, it is important that they get at least a basic understanding of how things work. It is the responsibility of business mentors, business support officers and service providers to engage in digital education initiatives for new businesses. With a little bit of education we should be able to stop new businesses being completely Bamgoogled and give them the information they need to make smart decisions about marketing their business online.