January is traditionally quite a busy month for company formation agents. Lots of people make a New Year's Resolution to finally start that company they have been talking about for years. We therefore expect to have a bit of a rush of new Companies being formed in the New Year.
When we took a look at the figures from Companies House, though, we found that although January is a busy month for company formations it is by no means the busiest of the year.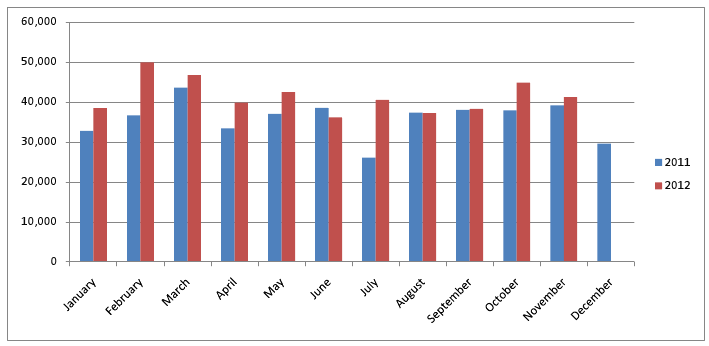 So far in 2012 February has been the busiest month for company formations while in 2011 it was March. There being lots of company formations in March makes sense and matches our own experience. As the end of the financial year is the beginning of April we get a lot of Sole Traders who get told to form a company by their accountant. February also makes sense as people who vowed to start a new company for their New Year's resolution meet those who are forming a limited company in preparation for the end of the tax year.
The months that surprised us more were October and November. We know there is always a dip in the summer but October 2012 seems to have been particularly high. This may well be down to parents starting a new business once the kids are back at school or it could be people getting ready to launch their business in the New Year but there doesn't seem to be a single obvious reason. If you have any ideas why the numbers for the formation of companies spikes in the Autumn let us know in the comments below.