A Certificate of Incorporation is often called the birth certificate of a company. It shows that a company exists and what its company number is (although not who owns it). The Certificate of Incorporation is often asked for when opening bank accounts or when signing big deals.
The Certificate of Incorporation is pretty much the only document that you get from Companies House when a UK company is formed. Depending on how you form the company you may receive the certificate of incorporation as a hard (paper) copy or in an electronic format (normally as a pdf). The hard copies are no different from the electronic ones, they have just been printed out. If you receive your certificate of incorporation as a pdf you can print it yourself and it will be just as valid as if you had received a hard copy from Companies House.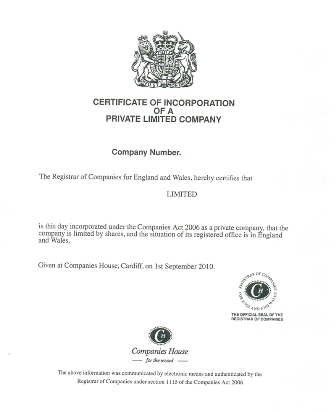 Whilst most UK banks and other authorities are aware of the way our certificates of incorporation work it can sometimes cause problems if you try to use them overseas. UK companies are relatively quick and cheap to form and so many people who never intend to trade in the UK form them as an alternative to potentially costly and lengthy procedures in their own countries. However because UK certificates of incorporation look relatively informal it can sometimes mean that international banks or authorities will not accept them.
This is where the system of apostille comes in. 'Apostille' is an international system for authenticating that a document is legally valid. It can either be a stamp or a small certificate which gets attached to your document. Apostilles always include the same information which includes the country where the document has been authorised, who it has been authorised by and what their qualification is. Once a document has an apostille stamp or certificate it should be accepted anywhere in the world.
There are a few different ways to get an apostille for a document. You can post some documents to the Foreign and Commonwealth Office who will add an apostille and return it to you. However this service does tend to take a few weeks. Alternatively many solicitors can issue an apostille or you can get it done by a notary public. Although there is no fixed price for getting an apostille it is usually fairly cheap (the Foreign and Commonwealth Office charge £30 plus postage).
All of our company formation packages include a Certificate of Incorporation in either electronic or paper format. For help choosing the best company formation package for your business give our business consultants a call on 01245 492777.