Share Certificates for Private Limited Companies
Share certificates are one of the most important documents to have when you form a limited company. The share holders in each company are the people who own it. Share certificates are issued by a company to each shareholder to show whow much of the company they own. It is very important to have a record of this as the percentage and type of shares you own will also dictate your power within the company and how important your vote is in making decisions. Share holders can do things like vote to sack company directors so you will want to make sure you know exactly what power you and any other shareholders have.
Why is a share certificate important?
As mentioned above if there is more than 1 shareholder in your company then they prove how much of the company each person owns. It is also a legal requirement under the Companies Act 2006 that a share certificate is issued to each shareholder. On a practical level share certificates are often required when opening bank accounts for your business or taking out loans.
What does a share certificate look like?
Share certificates can be written using any format as long as they include the following key information:
the name and address of the shareholder

the number of shares held

the class of shares

the amount paid
Here's an example of the bespoke share certificates we draft for our customers.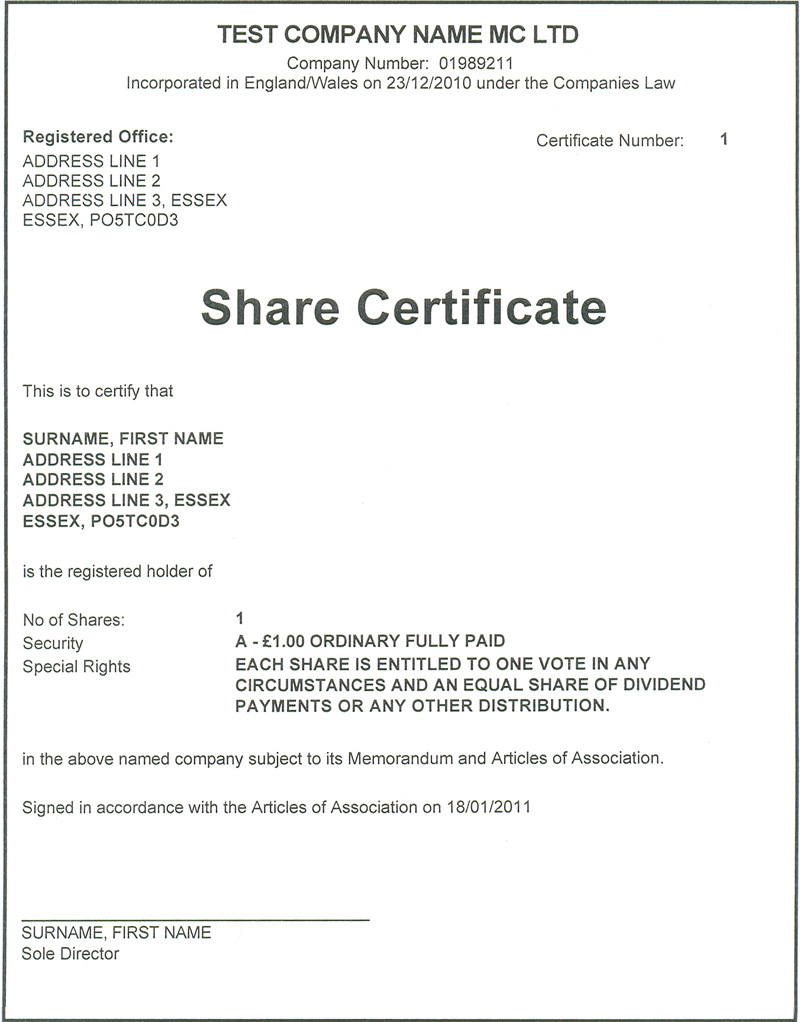 When should the share certificate be issued?
A company must normally issue a share certificate within two months of starting up or within two months of new shares being issued or transferred. Normally a certificate will go to each shareholder to show all of the shares that they own. However it is possible to issue split certificates which show parts of the shares owned or shares from just one share class.
Where can I get share certificates?
Companies House don't provide share certificates when a company is formed or when share changes are made, you are expected to create you own. If you aren't sure how to do this we can create Share Certificates for your company. These can be done at the same time as your company formation or retrospectively.
You can order share certificates through the members area of our website. Our business Business Consultants can also get your share certificates sorted out, just give them a call on 0800 0828 727 or 01245 429777 or you can use our contact form and they will call you back.