Figures from the Office for National Statistics (ONS) show that the trend towards self-employments, contracting and freelance work is continuing. The latest figures for 2015 show that there are 5.4 million businesses in the UK. 1.3 million of them employ more than one person but the remaining 4.1 million micro businesses don't employ anyone other than the owner.
Taking into account that the 4.1 million non-employing businesses recorded by the ONS are trading businesses the assumption is that the majority of them will be freelancers, self-employed people or contractors. This group has been behind much of the rise in the number of UK businesses over the last 15 years. Non-employing businesses have accounted for 90% of the 1.9 million new businesses created in the UK since 2000. Last year non-employing businesses accounted for three quarters of the 146,000 new businesses created.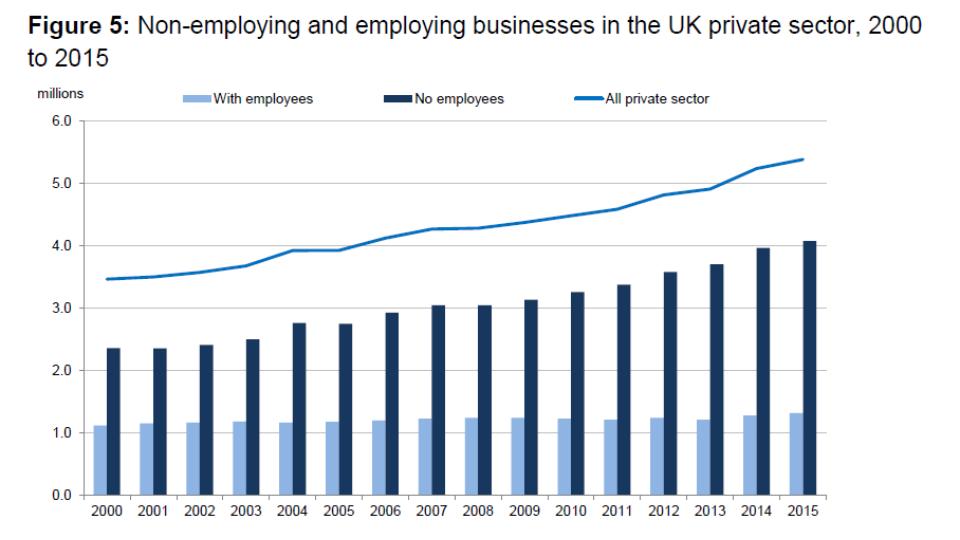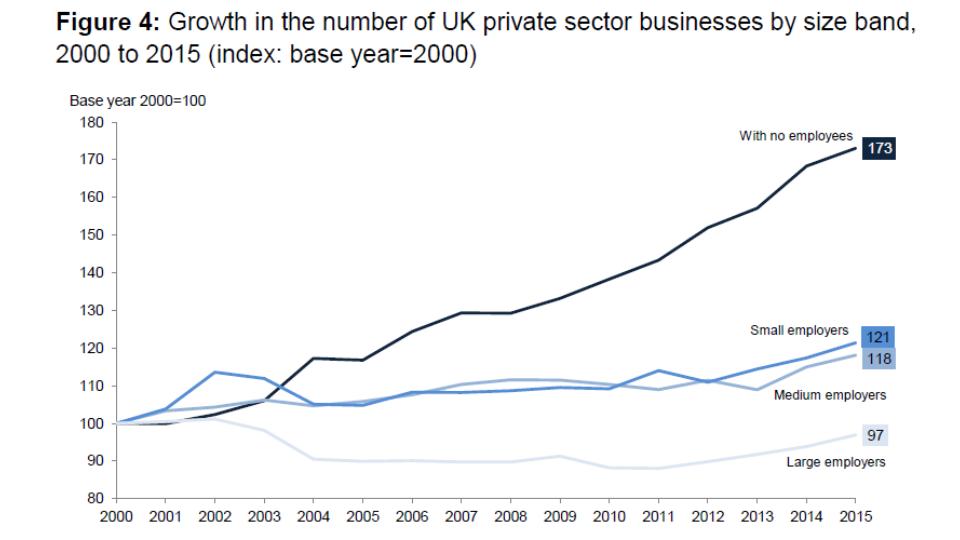 It looks like a lot of these non-employing businesses are setting themselves up as limited companies. Of the three business types that the ONS track (limited companies, sole traders and partnerships) limited companies were the fastest growing last year with an 8% increase compared to a 2% increase for sole traders. Around 44% of limited companies (723,000) are now owned and operated by a single company director and don't employ anyone else.
How is this worked out?
To work out the number of businesses in the UK the ONS use a combination of tax receipts, PAYE and VAT returns and company registrations. Using this combination of data allows them to eliminate most non-trading and dormant companies so the 5.4 million business figure should translate to 5.4 million active businesses. By extension there should be 4.1 million trading businesses with only 1 employee. The diagram below shows their basic process.
What does this mean?
We have recently written about the growing trend towards relatively low paid people being encouraged to form limited companies in order to work as contractors. As a company formation agent we deal with thousands of new companies a year and have seen increasing numbers of contractors forming limited companies over the last 2 to 3 years. Most commonly these are nurses, care workers and drivers. Each one we speak to tells us pretty much the same thing. This is that they have been told by an employment agency that they need to form a limited company in order to get work.
This can be good for the contractor because if they run the limited company smartly they can end up paying very little tax and keep more of their pay than they would through a regular job. Where people are doing a bit of agency work alongside their full-time job (as is common with nurses) this can be a good deal for them.
It is also good for the employment agencies as it means that they don't have to fulfil any employment obligations to contractors working through a limited company. That means no sick pay, no fixed hours and no redundancy pay.
In the last couple of years this increasing move towards freelancing and self-employment has been celebrated as a way for people to set themselves free from traditional jobs. The defining image has been a bright young professional sitting in a coffee shop with their laptop or working from a garden office. There is no doubt that there is some truth to this image and that there are a lot of freelancers and self-employed people out there who are happy working on their own and who are making a really good living doing so. However there is an increasing recognition that this shift to self employment represents a significant change in the UK workforce. As Deputy Labour leader Tom Watson stated in a recent article for the New Statesman:
"I'm not sure we fully understood the change that has happened in the labour market since we came to office in the mid-nineties. Back then you might have been a warehouse manager – now you're likely to be a self-employed courier. You may have been a cafe manager in a big company, now you're an out-sourced catering company. "
This is a theme also picked up by Labour leader Jeremy Corbyn in his conference speech where he said that:
"one in seven of the labour force now work for themselves. Some of them have been driven into it as their only response to keep an income coming in, insecure though it is. But many people like the independence and flexibility self-employment brings to their lives, the sense of being your own boss. And that's a good thing. But with that independence comes insecurity and risk especially for those on the lowest and most volatile incomes."
Traditionally the self employed and entrepreneurs have been firmly the territory of the Conservative party. To see this group being adapted by the Labour party reflects how significant the change to the workforce has been and how deep the trend towards self-employment has cut into lower paid jobs. As they have pointed out it also has significant implications for the way the welfare state works as all of our pension, healthcare and other systems have been designed around the idea that the vast majority of people will be employed by someone else.
Is self-employment a good or bad thing?
Let's be clear we at The Company Warehouse are big fans of entrepreneurship and new startup businesses. We love speaking to people about their business ideas and helping them get up and running and for most people it is a fantastic experience. Where we worry is for the people who are effectively forced to form a limited company in order to work for someone else. They don't tend to experience the sense of freedom that a stand-alone business owner would have or to have the same control over what they can or can't earn. It is a good thing that an increasing light is being shone onto this part of the workforce and hopefully it will lead to more being done for those entrepreneurs who want to establish their own business and really work for themselves.
The UK economy needs a strong entrepreneurial sector creating dynamic startup business and bringing new products and services to the market but these need to be real businesses. Much of the commentary on startups and entrepreneurship over the last few years has conflated the drivers and care workers and other contractors into this pool. This has muddied the waters around the real state of UK entrepreneurship. Separating out contractors from actual startup businesses will allow us to get a clearer focus on the real state of the UK startup sector and how we can help it grow.
To find out more about what The Company Warehouse do to support new startup businesses give us a call on 0800 0828 727