What is Google search console?
Google search console is an absolutely essential website diagnostic app from Google for every small business with a website.
[it's part of my Essential list of apps and software every startup needs]
Why?
Because it solves 9 problems you didn't even know existed if you've never had a website before.
If you've invested in a website and don't integrate it with Google search console, you are doing "the internet" all wrong.
And the best part is it's provided completely free of charge from Google.
Why use Google search console?
So what are the top 9 problems solved by Google Search Console and the reasons why you need to integrate GSC on your website?
Let's dive in.
1. Has Google been able to find your site? 
A lot of new business owners are surprised that their website doesn't automatically appear in the search results. You need to tell Google your website exists, and Google search console is the quickest way to achieve this.
You can check if your website is in Google's index (search results) by typing your full domain name into a google search box.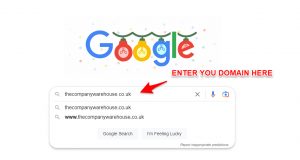 If you've got everything set up right you should be seeing the ideal set of search results indicating that your business is:
1) in Google's index;
2) appears on Google maps listing;
3) with image results; and
4) highlights the great reviews your business has been given from customers.
The result of your check should look something like this: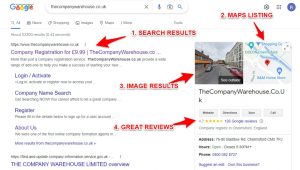 2. Can Google access the pages on your site, read the content and add it to their index so that your business shows up in their search results?
If Google hasn't found your site, or is unable to access the pages on your site, Google cannot show searchers your website in their search results!
Google search Console will show you a list of pages that it knows about and has added to it's index of the internet.

Even if your website only has a few pages you need to know that the key pages on your website, such as landing pages built to generate customer enquiries have been added by Google.
3. If you add new content to your site, do you know how to tell Google about it?
Google loves fresh (new or updated) content and shows a preference towards showing these types of pages in their search results. 
Do you know how to tell Google about fresh content you've added or updated to your site? 
For some businesses this is absolutely critical. 
Imagine a news website where Google doesn't know about fresh stories and breaking news! 
That site would constantly struggle against other news sites that updated Google about their latest stories in real time.
Using our WordPress website solution will automate the process of notifying Google about new pages each time you add a page to your site. However it's desirable to make a periodic audit of your site to ensure everything is working as expected.
4. Which pages on your site appear in Google's search results?
You can easily perform a check to find this out using one of Google's search operators.
Search operators are easy to use commands that manipulate the search results to filter them in a specific way.
We need to use the SITE: search operator to find which pages from our site are listed in Google.
You do this straight from the search bar like we show in the example below: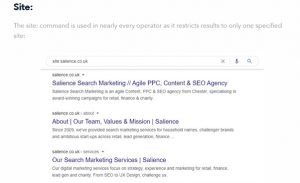 Thanks to David Ryan for this image and check out his article on how you can use Google search operators to mine search results.
5. What queries or keywords are people using that Google shows your pages for?
This is critical information to know for a number of reasons. 
Suppose you install block paving driveways. Maybe your site is found for the search terms:
tarmac driveways
driveway installer
Driveway company
But you don't show up for the keyword term "block paving driveway".
This type of information would tell you the page is ranking for the wrong terms! 
Google search console shows you precisely which search terms and how many clicks, which means visitors, your website is receiving: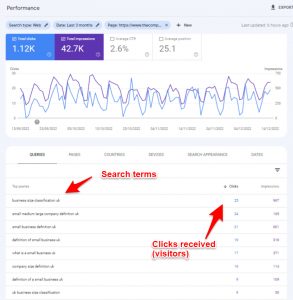 6. When your website appears in the search results, do people click on your website? If so how often do they do this?
This is known as your "click through rate" often abbreviated as CTR. It's an important number to know because Google uses this as a ranking factor for organic search! 
If your CTR is lower than the websites you are competing with, your site will appear lower down the ranks.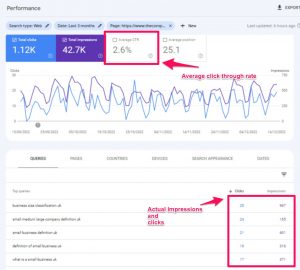 7. Would you know if Google developed a problem with your website?
This happens way more frequently than most small business owners recognise. 
Although your website might be up and working, as far as the naked eye is concerned, this does not mean all is well as far as Google is concerned.
Google search console has a "notifications" section natively within the dashboard that will alert you to any issues such as crawling and indexing problems that can result in your site performing poorly in the search results.
The settings can be tweaked to email these notifications to you ensuring you have an effective early warning system in place regarding 
8. Do you know if any other websites link to your website?
External links from other websites to your website is a top ranking factor when it comes to Google's search results. 
Not all links are equal though. Links from websites that Google views as "spammy" can actually harm your ranking.
Google search console provides downloadable reports of the sites linking to your website by clicking the "links" icon in the left hand navigation bar.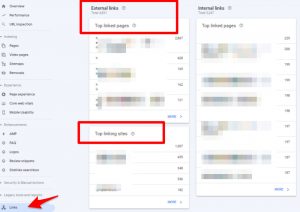 9. Do you know if your website works well on mobile devices? 
You may already know that it is essential that your business website is "mobile  responsive", which means it works well on the small screens we have on our mobile phones.
But did you know HOW important this is to Google?
Google have stated they rank websites according to their usability on mobile devices first[link].
Technically this means your website should load quickly and all buttons and functionality should be easily accessible when a visitor is using a mobile device.
Google search console contains reporting functionality that will tell you how well your website performs on mobile devices as well as highlighting areas where there are problems. 
What are the advantages and disadvantages of Google search Console?
Pros: Free tool from Google, Web interface, Solves 9 "need to know" issues for website owners, 
Cons: Can be time consuming to install, steep learning curve for beginners.
Summary:
Are you convinced of the benefits of using Google Search Console for your website? Why or why not?
Do you have any additional tips or best practices for using Google Search Console to improve a website's search performance?
I'd love to hear your feedback.