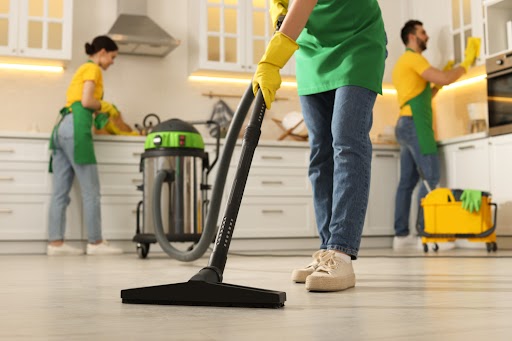 Overview
Come on, who doesn't like coming home to a fresh, clean and tidy house? 
Starting up a cleaning business can be not only rewarding financially but you are also offering a service that many people feel is essential to the smooth running of their lives. 
Potential Annual Revenue: £45-75,000
Start up Cost: £300-£3,000
Time To Revenue: 2-3+ months 
Annual Market Growth Rate: 9.4%
Best for: Self-motivated, independent entrepreneurs who don't mind rolling up their sleeves!
New research (2022)  by the British Cleaning Council has found that nearly nine in 10 firms in the cleaning and hygiene industry are micro businesses, employing fewer than 10 individuals. Starting up your own Cleaning Business business could see you running a very lucrative business in a short space of time. 
You can join them and help more households put their keys in the lock and find much less stress and chaos and a cleaner floor! 
Cleaning is BIG business and is in the top ten of all UK businesses, with growth in domestic cleaning services has increasing by 25% in the last 5 years. 
The British Cleaning Council commented  that 27% of the cleaning and hygiene workforce are aged over 55 years, and that the industry needs to do more to attract younger staff. 
So here is your opportunity to shine! ⭐
Obviously, domestic and commercial cleaning businesses essentially provide the same service but differ in terms of materials, clients and marketing. Which area you choose to start your own business in can always be expanded and added to in the future. 
Sounding good so far? Here are some pros and cons to keep in mind:
 4 Great Reasons to Start a Cleaning Business 
A cleaning business is easy to start with very little cost and requires minimal investment. Cost saving is increased if you use the client's cleaning products and equipment.

No specific skills or training is required, although courses in hygiene can help. 
(There is currently a proposal for a Cleaning Hygiene Operative apprenticeship, after requests across the industry for basic, entry level qualifications)
There is a certain amount of flexibility in a working day .

High Local Marketability
4 Common Challenges when Starting a Cleaning Business
Can be long hours.

Possible unsociable hours, early starts and late finishes especially in the commercial sector.

Consider travel times and miles covered between jobs. 

The work is physical
From registering your company, establishing your brand to marketing your services, we'll cover everything you need to know to help you turn your business mind into a successful cleaning business. 
How I'd set this cleaning business up.
So do you think this sounds like the business for you? Here's how I'd make sure you hit the ground running.
Choice of business structure
This is fundamentally important when you are setting up any business. As a solopreneur, you can start this business as either a sole trader or a limited company. 
I'd also strongly consider a hybrid startup structure where you can reap the benefits of both structures with minimal cost and risk.
This could enable you to start trading with the simplicity of a sole trader but also have secured the limited company for marketing hacks and saving tax later if you decide to incorporate your business.
If you are unsure what to do at this point I recommend seeking professional advice, my team is available to talk you through this in a clear and concise way you will understand. 
Create a strong business plan
: 
Firstly, start this by asking yourself plenty of questions. 
A business plan should outline your goals, target market and services you will offer plus and financial projections. This will help you stay organised and focused as you start your business. 
There are different types of business plans. Take a look here for your 1 page easy to use business plan.  It's designed to cut the waffle but has enough detail to make it a meaningful tool so that you remain laser focussed on what needs to be done when you set up this business.
Additional Cleaning Services
When starting a cleaning business it's important to research the other businesses in the area and the services they offer. This will help you identify any gaps in the market and determine what extra services you can offer to stand out from the competition.
Here are some ideas of additional services you can offer domestic clients:
Eco-friendly cleaning: Many clients are becoming increasingly environmentally conscious and may prefer to use a cleaning service that uses green eco-friendly products.
Specialised cleaning services: Consider offering specialised cleaning services such as carpet cleaning, window cleaning, or deep cleaning services.
Organisation services: A growing number of customers may appreciate organisation services such as decluttering, wardrobe or kitchen organisation
Laundry services: Offering laundry services such as washing, drying, and folding can be a great way to differentiate your cleaning business.
Pet-related services: Consider offering pet-related services such as pet waste removal or pet hair removal.
By offering additional services, you can differentiate your cleaning business from competitors and attract more customers. However, it's important to ensure that you have the necessary skills and resources to offer these services effectively.
How much can I earn running my own cleaning business? 
So, the big question is, is it financially worth starting a cleaning business? House cleaning rates can vary depending on several factors including location, type of cleaning, and whether you provide your own cleaning supplies. 
According to a survey conducted by Payscale, the national average for house cleaning rates per hour in the UK ranges from £10.40 to £15. This is obviously dependent on your experience, the type of services you offer, the size of your client base and your local region. Many make less than the average and many make much more. 
The average private house cleaner salary in the United Kingdom is £20,719 per year or £10.63 per hour. Entry level positions start at £19,988 per year while most experienced workers make up to £22,035 per year. https://uk.talent.com/
If you are running your own business the sky is the limit, obviously this is dependant upon how many staff you have and the size of your client base but it would be easy bringing £45- 75,000/year.
However, your rate should be based upon where you live and what similar businesses are charging.
Do your research in your local area! 
Your biggest outlay, if required, is your cleaning equipment and supplies, therefore it is essential you establish whether you will use your own or your customers equipment and cleaning supplies as this will affect your hourly rate.
Don´t forget to view the house and meet your new customer before you agree on an hourly rate. As we all know houses vary greatly in cleanliness! And remember those add-ons, ironing, organisation, deep carpet cleaning etc
Do I need any training?
There are no set entry requirements to start your own cleaning business but you'll need to show customers that you're reliable and able to do the job.
You could do a college course which would teach you some of the skills and knowledge you need in this job. Relevant courses include:
Level 1 Award in Cleaning

Level 2 Certificate in Cleaning Principles.
Or you could do a Healthcare cleaning operative intermediate apprenticeship.
This is useful if you would like to work in hospitals, care homes or other places that need to clean to a high standard to control infection.
A COSHH certificate (control of substances hazardous to health) can be highly beneficial to the role.
The British Institute of Cleaning Science (BICSc) offers many training courses. It is the largest, professional, independent body within the cleaning industry.
How to market a cleaning business.
This is a business that I would definitely want to fast-track from the beginning for growth. You want to get busy as quickly as possible and there is only one real way to achieve this.
Most buyers/potential clients for this service are going to find a cleaner using a Google search. Sure some will use an app, some might ask for a recommendation on social media but MOST will look on Google.
Google knows that when someone is looking for a cleaning service, they want to see results close to where they are located.
This usually means that Google will show a maps listing at the top of the search results like the image below.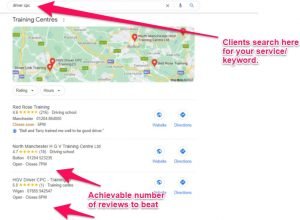 If your business shows up here then you are right at the top of the search results, under the nose of people who want to find a reliable cleaner.
For any type of business/search term where Google shows a maps listing like this , I describe these businesses as having "high local marketability".
High local marketability means if you know what you are doing and tick the right boxes with Google you can get a lot of business enquiries very easily.
So if potential customers can't find you on Google, they won't be calling you. And guess what? That means someone else is picking up that client and you're missing out!
So how do you dominate Google search results for this business?
You have to optimise for the Google maps listing. How do you do that? Follow these simple steps.
10 steps to marketing a cleaning business:
Get a website. Make sure it complies with Google's best practice guidelines.
Get your new website in Google so clients find YOU.
Provide LOCAL PROOF. Use a local phone number to tell clients and Google you are definitely a local business.
Provide SOCIAL PROOF. Show reviews from real customers on your site. This is called "social proof"and turns browsers into buyers!
Use LANDING PAGES. A landing page is optimised for a specific search term making it rank higher than your competitors. Landing pages are for people who want to buy your service now. They show the client what they want to see
Provide great CTA's (CTA =call to action). Make it super easy on your website for clients to get in touch with you by including features such as a messaging/chat app and CTA's that show clients exactly how to contact you.
Share FEEDBACK. Go the extra mile to provide an outstanding service and you are sure to collect plenty of positive feedback from clients. Ensure you harness this by collecting reviews from every new customer.
AUTOMATE – You won't have time to be manually updating your website. Make sure you automatically show the new reviews on your website, driving more clients to your business.
PROMOTE – Regular updates to your website and using Google tools will give your website an extra edge.
MAINTAIN – From time to time websites need technical maintenance to the software they run on to keep peak performance.
Most businesses in this sector DO NOT invest enough time and money to execute this simple marketing  strategy providing you with the opportunity to step in and DOMINATE in the local search engine results.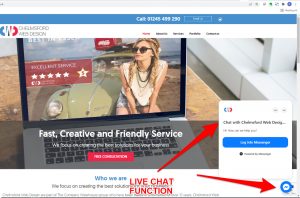 The Live Chat Function

–
This is great as it gives your potential customers a "one click method" to message you straight from your websites – you get the messages on your usual messenger account, this is probably something that your competitors won't have and we've had clients getting great success using this tactic. Make it easy for your potential clients to get in touch with you. 
Here are 8 great tips to help you market your cleaning business effectively:
Promoting your cleaning business is crucial to attract new customers and grow your business. Here are some tips to help you market your cleaning business effectively:
1. Do your research
:
The cleaning industry is competitive, so it's important to research your competitors in your local area and identify what you can offer that others don't. This will help you differentiate your business and attract more customers.

2. Create a great company and domain name for your website
:
Choose a name that is related to you and your business and is memorable for your potential customers.
Remember to steer well clear of similar sounding names so confusion does not occur with other companies. 
We can quickly and easily help you get the ball rolling with this, registering your company and domain name and even providing you with fully featured business email boxes making your business look more professional, adding credibility when you are approaching new customers. So instead of emailing from an @yahoo or @hotmail address you can be emailing from @mycompanyname. Doesn´t that look better? 
3. Create a website
: A website is essential in business today. 
Always show your reviews and the range of services you offer and give clear and correct contact details. 
Photos and videos are fantastic for a more attractive website and give lots more information about your business and any unique services you offer.
A little information about yourself can make the business more personal and boost customer confidence. Here you can introduce yourself and give your experience and qualifications.
We have already mentioned this (a lot!) but it is vitally important. Always ask for references and reviews on your website. Clean houses of your friends and family. Also give special offers, ask your clients to introduce friends and family and they´ll receive a discount for a set period.
Google reviews, testimonials and recommendations are essential. Potential customers WILL check for reviews when they are searching for a service, product or trade. 
This is difficult when you first start out and asking can be uncomfortable but a happy client will want to help you up the ladder every time.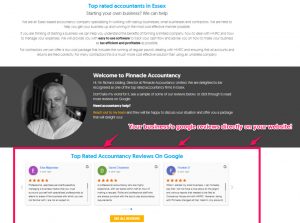 4. Word of mouth
is a powerful and effective marketing tool and should never be underestimated! Make sure you ask your clients to recommend you to their friends and family…..in fact anyone they know!
5. Design an eye-catching logo:
Your logo is an important aspect of your brand identity, so it's essential to design a logo that represents you and your business and can be used on your work uniform, car/van stickers, business cards, and leaflets etc.
You can use one of our logo design and branding packages to create a logo or use online logo makers to create one yourself.  
6. Use social media:
Advertising needs to be focused at your key demographic. Social media platforms such as Facebook, Twitter/X, Instagram and TikTok can be powerful marketing tools and cost nothing.
Shout out loud what makes your business unique! Eco-friendly cleaning products , pet hair removal, ironing services. Whatever if it is, make sure you are getting the word out there. 
Join local business Facebook groups or similar platforms to promote your business and connect with potential customers. 
You can also create social media pages for your cleaning business and post regular updates, photos, and promotions to attract more customers.
Create relationships with other businesses, maybe a gardening or a building business would be mutually beneficial. 
7. Use apps:
There are many apps available that can help you manage your business more efficiently. They can be used for booking appointments, saving customer details and receiving payment.  
8. SEO
(Search engine optimization)
is the art of getting your website to the top of the search results on Google and the other search engines so that you have the best chance of getting their business. 
If you're new to running a website it's easy to get caught out with a low cost SEO service that just doesn't work.
We can help put together an affordable SEO package and we'll always tell you what we are going to do and what results you might expect to achieve.
By implementing these marketing strategies, you can attract more customers, improve your brand identity, and grow your cleaning business.
Other formalities
Other formalities that you will need to complete before you can grab that duster and mop
As well as registering your company and preparing your business plan ….
Open a bank account
Even if your venture begins as a side hustle, you need to have a separate business bank account for your takings whether you´re a sole trader or a limited company.
A business account gives your small business more legitimacy and professionalism. When payments and transactions go via an account with your company's name on it, your clients and consumers will be more likely to trust your company.
You need to pick a bank which integrate well with your accounts package.
What´s your bookkeeping like? 
No idea where to start with your filing and tax returns? 
We can help you with your bookkeeping and payroll accounts, making sure you go into your new venture full of confidence and secure in the knowledge that the finance side of it will be looked after. Find out more about our Accountancy Services Packages
Does my cleaning business need insurance?
I most definitely does. Anyone that employs you will expect you to demonstrate that you have comprehensive business insurance cover.
What type of insurance you need obviously depends on what type of business you run. 
For a cleaning business public liability insurance is a BIG YES and employers' liability insurance if you have staff.
There are many insurance companies that can help you with your specific needs depending on whether you are a sole trader or have employees, so shop around. 
Accidents do happen and you need to be covered if you break anything or someone has a fall due to your negligence. 
Remember, it is vital you review your insurance coverage periodically as your business grows and evolves to ensure it remains adequate and up-to-date.
Also think about joining one of the professional cleaning bodies, this will give kudos to your business and help you to stand out in the marketplace.
The British Cleaning Council  or the Domestic Cleaning Alliance are recognised nationally, there are others. 
Conclusion
Starting a cleaning business is an easy, low cost and highly profitable business with potential to scale rapidly. 
At first, commit to finding and working for your first few clients on your own, this will keep your prices down. Rather than investing in hiring employees, pay yourself a modest wage while you iron out any bugs in your business model and discover best practices for your firm. 
Build a solid reputation and keep control of the way people see your cleaning business by taking care of clients personally. 
When business starts to pick up, you might start hiring employees and maybe you can focus on other business-related tasks.
Running your own cleaning business can be very rewarding whether you´re a sole trader or  want to build a team.
We all like to think that we´ve made somebody´s day easier and taking away the chores and responsibilities of cleaning a busy house or office can be beneficial to everyone.
Exceptional customer service is key and building a trustworthy, positive reputation will ensure you have satisfied customers time and time again. Remember clear communication is essential and a happy customer will not only recommend you to others but also become repeat clients themselves. 
So, before you grab that mop and bucket, find out more and talk to my team on 0800 0828 727 or contact us via our website 
Sources:
Payscale. (n.d.). House Cleaner Hourly Pay in the United Kingdom.