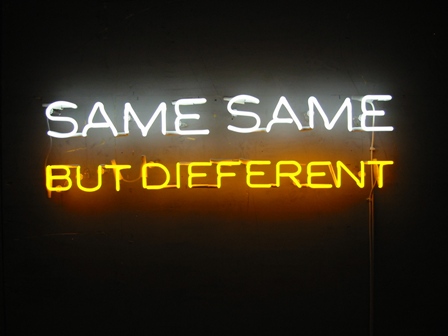 If you want to establish a strong brand for a new company experts recommend that you can do two things. First you need a clear idea of who your customers are and what products or services you provide. Secondly you need to be able to clearly state why customers should buy your products or services.
Once you know what these two statements are, they can be a powerful way to tell new customer about your company and inspire your staff.  There are basically two ideas you need to come up with.
Mission Statement
Mission statements were all the rage in business circles a couple of years ago. They get less press these days but are still a useful tool. Mission statements tend to be for internal use. They set out the principles the company will be run on. Some good examples are:
Google – Google's mission is to organize the world's information and make it universally accessible and useful.
Amazon – Amazon's vision is to be earth's most customer centric company; to build a place where people can come to find and discover anything they might want to buy online.
McDonalds – McDonald's brand mission is to be our customers' favorite place and way to eat. Our worldwide operations are aligned around a global strategy called the Plan to Win, which center on an exceptional customer experience – People, Products, Place, Price and Promotion. We are committed to continuously improving our operations and enhancing our customers' experience.
These mission statements set out what the company is trying to achieve and say something about how they want to do it. Both the Amazon and McDonalds mission statements explicitly mention customers while the importance of the end user is implied in the Google one.
Strap Line, Slogan or Tagline
Strap lines, Slogans and taglines are all basically the same thing. What a strap line does is to quickly sum up what the company is about. It may be incorporated into the company logo or feature in advertising. It is meant to be catchy and make the customer think positively about the company. Some good examples are:
Nike – Just do it
DeBeers – Diamonds are forever
HSBC – The world's local bank
These slogans are short and snappy. They do not sum up everything about the company but they do give a general idea about the company's philosophy. Nike is all about action while HSBC is a global bank with a friendly service.
Even if you don't want to go down the route of having a formal mission statement or slogan it is a good idea to have a quick summary of your company prepared. Many people believe in the elevator pitch, a 30 second to 2 minute explanation of what your company is all about and why people should give you money. With the growing influence of social media the 160 characters Twitter gives you to write your profile might be an equally good test. If it takes you more than 160 characters or 2 minutes to describe your business perhaps then perhaps you need a rethink.
Ultimately this can be the main benefit of writing a mission statement or slogan. The process of doing it makes you thinks more clearly about your business and its benefits.